This shop has been compensated by Collective Bias, Inc. and its advertiser. Product was provided by the client for review; however, all opinions are mine alone. #WorldsSmartestToothbrush #CollectiveBias
This holiday season, make this personalized Gift basket for that Tech-Savvy Guy in your life and fill it with gifts that he will actually love and use every single day!
Can't wait? Hover over the Image below to start shopping for your Tech-Savyy guy!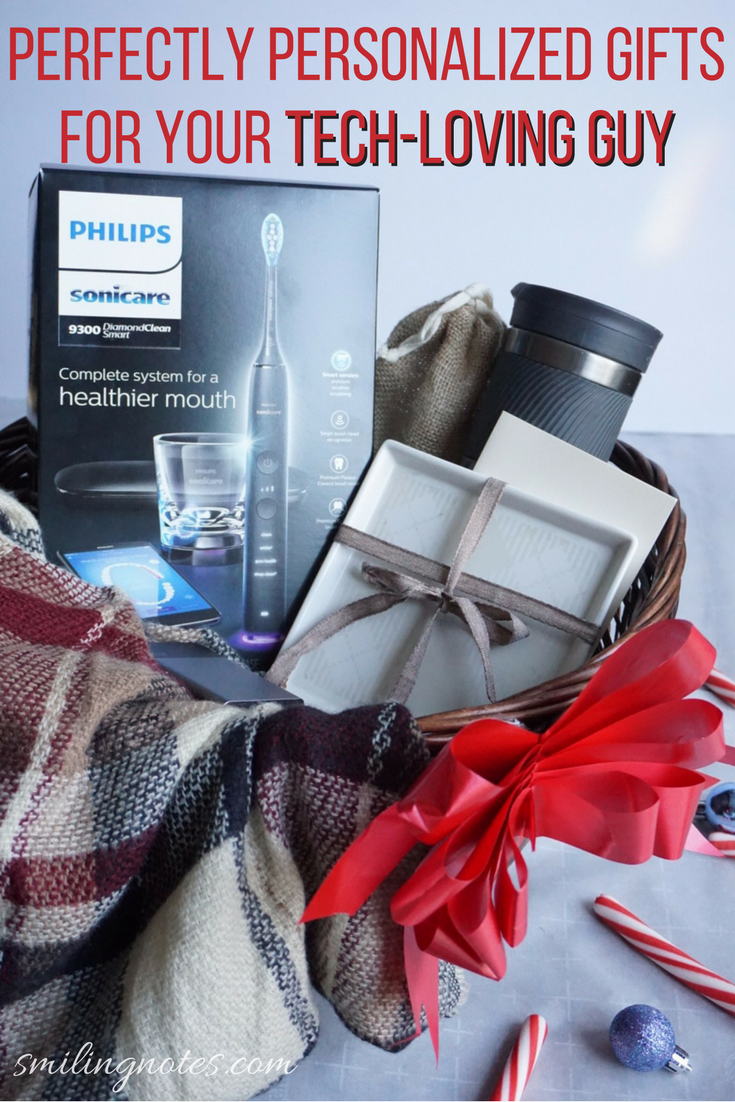 My husband is someone who has always been fascinated by new gadgets and technology and is always ahead of the game whenever a cool new gadget launches in the market.
Not only that, but he is also very hands-on when it comes to any computer-related issues. I secretly like to call him my 'Tech-guy' since I can always rely on him whenever I run into any tech-related issues.
He is so much into tech stuff that if he could, he would automate our entire home. He has already set things in place where he can control our lights and heater as well as the security camera outside our home with the touch of a button on his phone (even when we are not at home)!
I think he is even secretly planning to convert our guest room into a man cave with all of his gadgets.
Just like my husband, I'm sure many of you might have such tech-loving guys in your lives – whether it is your significant other, your dad, your brother or even your sons or son-in-laws!
But let's face it, one of the most difficult tasks is to decide what to gift to these tech-loving guys in our lives during the holiday season.
Sometimes you may find a lack of options that they might truly love and use and chances are you might end up buying them gift cards or the old tried and tested options that you may have gifted them last year.
Well, I have some cool gift ideas that your tech-loving guys would absolutely love and would actually use every day
! 
So let's get started, shall we?
Philips Sonicare DiamondClean Smart Electric Toothbrush
If you are going to be gifting your Tech-loving guy a special gift, you might as well give them something that they can use on a daily basis in the literal sense. For that very reason, the Philips® Sonicare DiamondClean Smart 9300 Rechargeable Toothbrush is
on top of my list this year.
For someone who is very particular about oral hygiene, I prefer electric toothbrushes over manual ones.
The Sonicare DiamondClean toothbrush is the No 1 Dental Professional recommended brand and provides you complete oral care.
It is Bluetooth enabled and connects to the Sonicare App. With its Smart Sensor technology, it gives you a personalized feedback and coaching, giving you superior results and 100% confidence in your oral care – every time!
Plus its sleek and stylish design is something that everyone will love.
My guy has already fallen in love with this cool new gift and he looks forward to using it every day. Seeing the excitement in his eyes while using his new Sonicare toothbrush and tracking it on the Sonicare app, makes me so happy! 
Some of its features are –
Sonic technology with 4 brushing modes and smart brush head mode pairing technology

A customized reminder lets you know when its time to replace the brush head

Comes with a convenient travel case that allows you to take your toothbrush on the go
I'm honestly impressed with all its features as well as the Sonicare app. The app tells you if you have missed any areas of your mouth while cleaning and will advise you to focus on specific areas the next time you brush. Now, how cool is that? Any Tech-loving guy would absolutely love this! 
External Hard Drive
My husband swears by his external hard disks. They are easily portable and help to have a back up of his data.
It never hurts to own a couple of external hard disks and your tech-savvy guy will love you even more for this gift!
Bluetooth headphones
A pair of Bluetooth headphones is an excellent gift idea as they are convenient and tangle-free.
Coffee Travel Mug
A portable coffee travel mug is always a great option for your tech-savvy guy especially if he is always on the go.
Coasters
Keep those coffee mug marks off the work desk by gifting him some cute coasters.
Catch-all dish
A trinket dish or a catch-all dish is not just for the ladies. My husband has a ton of small things laying around his desk like small pen drives, markers, pens etc. and a catch-all dish is great as it helps to be more organized so that things don't get lost in the drawer.
Hand Sanitizers
For Someone who is always on his computer or laptop and touching the keyboard 24×7, it is always a good idea to have a sanitizer on hand. My husband is sometimes so busy that he eats his lunch at his desk and a sanitizer always comes in handy.
Last but not the least, include a personalized handwritten Thank You note expressing your gratitude.
So these were some really neat gift ideas that your tech-loving guy would absolutely love! Of course, out of all the things, my husband really loves his new Philips Sonicare Toothbrush.
I never knew he would love it so much and I feel so happy to see him use it every day!
There's always a way to make life better and if you are looking to give a special gift for that special guy in your life, you can get your Philips Sonicare Diamondclean Smart Toothbrush at Kohl's from their Home Section.
Do you have a tech-savvy guy in your life? I hope these ideas will help you find some great gifts for them this holiday season! 
If you enjoyed this post, I would love it if you shared it with others!
XOXO